Corvallis High School
Class Of 1966
Welcome to the Corvallis High Class Of 1966 web site. Our website is designed to better serve our classmates. Hope you like it and use it to keep in touch and to update your profile. You can add photos, information, an

d the like under your own profile and once you've joined, you c

an connect with other classmates who have made their information available to others in the class.
Take a moment and complete the survey linked to the 50th Activities button in the lefthand column! It wi

ll help us plan a g

reat reunion.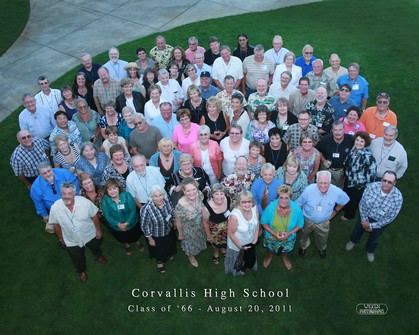 CHS '66 Class Photo- August 2011 Photo by Jerry Wilkin
ANNOUNCEMENTS
•

2014 Dudley/Huston Memorial Golf Tournament

Your presence is requested to play in the 2014 Dudley/Huston Memorial Golf Tournament.

DATE: SUNDAY, AUGUST 17, 2014

FEE: $49.00 (INCLUDES 1/2 CART & BUCKET O' BALLS)

Four tee times at eleven have been reserved, but more can be set aside. The course is in prime condition, as eight of us played it early July. Please let us know whether you would be playing or not, as an accurate number has to be given to the pro. If you know your handicap, let us know. We will play a Scramble Format, with low & high handicap mixed foursomes, so do not book a group of low handicappers. Please do not commit, then not show, as we will hunt you down and do bad things to your credit rating!

If you know of anyone not on the website that you think would like to play please put them in touch with Louis Thaler. We are planning on the tourney being here on the fiftieth, as well.

Please show up by 10:00 A.M. to pay, practice, and BS. Consider bringing camera, sunscreen, snacks, and hat, in addition to clubs, shoes, and glove. Be sure to check in to joining the club, because even if you are not a local, it is a good deal.

Contact Louis Thaler with any questions at his email address: columbiasply@yahoo.com.

•

Missing Classmates

If you see people on the list of missing classmates and you know where they are, contact them and ask them to join the website. We will be using this website to send notices and information about our 50th Reunion in 2016 and it would be great if we could contact all classmates by using it.

Reunion Survey

Take a moment and complete the reunion survey linked in the lefthand column under 50th Reunion. These results will be shared with the planning committee and will help the committee plan the best reunion ever. Thanks.