Corvallis High School
Class Of 1966
ANNOUNCEMENTS
•

2018 SUMMER PICNIC

Be sure to join the Class of '66 summer potluck picnic and gathering this year on Wednesday, August 29, 2018. We will also be celebrating turning 70. Here are the details:

DATE: Wednesday, August 29, 2018.

TIME: 3:00 PM to Dusk. Arrive anytime after 3:00 PM. Dinner call promptly at 5:00 PM. Visitng will continue until dusk.

PLACE: Benton County's Adair Village Park at Adair Village north of Corvallis. Same as last year.

FARE: Potluck -- Bring a dish to share with others. Bring your own liquid refreshments.(alcoholic beverages are permitted). Paper plates ad plastic ware will be provided.. A "Thank You" jar will be available for those who wish to contribute.

COST: Zero! Just bring food to share.

Anyone have an interesting auction item? Let the committee know/ We use it to raise a few additional dollars.

RSVP: The courtesy of an RSVP is appreciated for the purposes of planning enough of everyting for everyone. If you decide to come at the last minute please feel free to do so, RSVP or not. We want to see you there.

POINT OF CONTACT: RSVP and questions about the picnic can be directed to classmate Kent Smith:at: e-mail kentsmith448@gmail.com , telephone (503) 837-0218 or mail to 677 Maxwell Avenue S., Monmouth, Oregon 97361.

Looking forward to seeing you in August and Happy 70th Birthday !!!

•

Hi Classmates- Go check out the many photos from the 50th reunion that have been posted. If you have some you think would be fun to post, please let us know. There's still room available.
Welcome to the Corvallis High Class Of 1966 website -- serving the class by providing communication and connection for us all.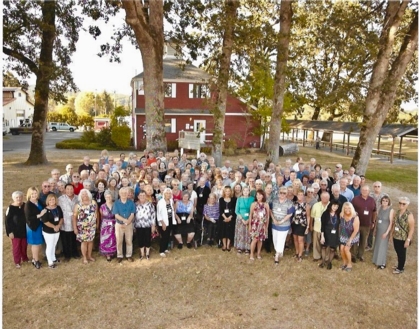 August 2016 Photo taken by Terry Wheeler