Corvallis High School
Class Of 1966
Welcome to the Corvallis High Class Of 1966 web site. Our website is designed to better serve our classmates. Hope you like it and use it to keep in touch and to update your profile. You can add photos, information, an

d the like under your own profile and once you've joined, you c

an connect with other classmates who have made their information available to others in the class.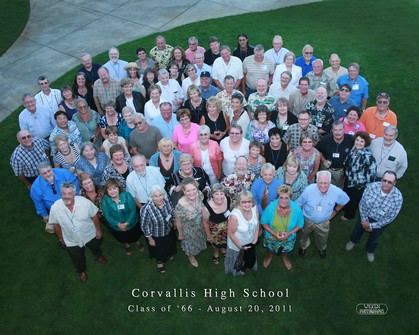 CHS '66 Class Photo- August 2011 Photo by Jerry Wilkin
ANNOUNCEMENTS
•

Many of you have asked about this year's Summer Picnic. Because the Reunion Planning Committee is busy working on getting the big reunion planned and pulled together, no formal effort is being made by them for a picnic get-together for 2015. This does not prevent a group from deciding on a mutual date this summer and place to gather and asking classmates to come. If anyone wishes to do this, please let Kent Smith, Reunion Planning Chair, or the website know and an announcement can be put up to reach interested classmates.

•

50 Year Reunion

The class reunion planning committee is making official announcement of the dates for "ROUTE 66," the grand and long awaited 50 year reunion for Corvallis High School Class of 1966.

The reunion events will be planned over a four day period August 18 through August 21, 2016. Please note, mark, remember, and plan for these dates:

Thursday, August 18: Various planned activities.

Friday, August 19: Various activities and a Friday evening get together.

Saturday, August 20: Evening dinner and celebration.

Sunday, August 21: Picnic and gathering at Avery Park.

Further details, schedules, and registration information will follow in the next 12 months.

All announcements as well as registration will be conducted through the class website postings and e-mail at www.Spartan66.com. Thank you to all who have joined the website. If you can encourage other classmates to join the website, it will be sincerely appreciated. We do not want any classmate left out.

•

Missing Classmates

If you see people on the list of missing classmates and you know where they are, contact them and ask them to join the website. We will be using this website to send notices and information about our 50th Reunion in 2016 and it would be great if we could contact all classmates by using it.

Reunion Survey

Take a moment and complete the reunion survey linked in the lefthand column under 50th Reunion. These results will be shared with the planning committee and will help the committee plan the best reunion ever. Thanks.