Corvallis High School
Class Of 1966
Welcome to the Corvallis High Class Of 1966 web site. Our website is designed to better serve our classmates. Hope you like it and use it to keep in touch and to update your profile. You can add photos, information, an

d the like under your own profile and once you've joined, you c

an connect with other classmates who have made their information available to others in the class.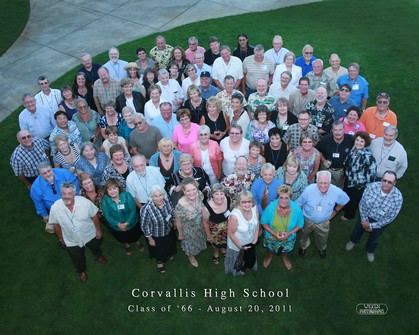 CHS '66 Class Photo- August 2011 Photo by Jerry Wilkin
ANNOUNCEMENTS
•

Make sure to mark your calendars now for our 50th Reunion:

August 18, 19, 20 and 21, 2016.

Point of contact for reunion is Kent Smith at e-mail: kentsmith48@minetfiber.com
or telephone (503) 837-0218. Inquiries are welcome.


•

Volunteers Needed

The 50th Reunion Planning Committee's efforts are aimed at encouraging as many classmates as we can to attend our reunion events planned for August of 2016. We are looking for volunteers to help with coordinating efforts by reaching out via our Corvallis grade school and junior high experiences and contacts.

Specifically, as a volunteer, you would help identify and contact classmates from your grade school or junior high, facilitate the collection of memorabilia, and serve as the key contact person for your respective school.

If you are interested in helping, please contact Joan Corcoran at joanchs66@yahoo.com.

•

Missing Classmates

If you see people on the list of missing classmates and you know where they are, contact them and ask them to join the website. We will be using this website to send notices and information about our 50th Reunion in 2016 and it would be great if we could contact all classmates by using it.

Reunion Survey

Take a moment and complete the reunion survey linked in the lefthand column under 50th Reunion. These results will be shared with the planning committee and will help the committee plan the best reunion ever. Thanks.